Organic Tea
Mura has created a unique blend of handcrafted organic teas with a wide variety to suit all tastes. You can find them at the following cafes and stores:
As Nature Intended - Belconnen Markets
Let's Be Natural - Mawson Shops
ANU Food Co-Op
Choku Bai Jo - North Lyneham
Samekash Cafe - Yerrabi Pond Gungahlin
Healthy Start Discount Vitamins - Gungahlin (opposite Coles)
Lush Organic Hair & Spa - Forest Glen QLD
More coming soon!
ZEN
Relaxation and a peace of mind any time of the day.
All Organic Ingredients: Skullcap, Chamomile, Peppermint, Lemon Balm, Rosemary and Blue Corn Flower.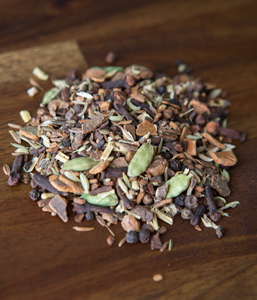 Dandelion Chai
A delicious caffeine free chai that will enhance the immune system, fight inflammation and act as an antioxidant.
All Organic Ingredients: Roasted Dandelion and Chicory Root, Cassia Cinnamon, Cardamom pods, Liquorice Root, Cloves, Aniseed, Fennel, Caraway, Nutmeg and Peppercorns.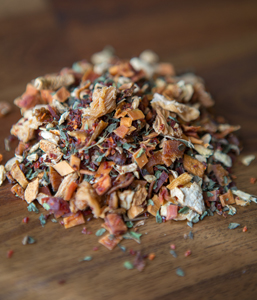 TROPICAL
Perfect mix of nutrients, antioxidants and enzymes to give your body a boost.
All Organic Ingredients: Pineapple chunks, Papaya chunks, Mango chunks, Rosehips, Ginger, Lemon Peel and Peppermint.
DANDELION CHOCOLATE
This blend is the perfect healthy alternative for all chocolate lovers! It is full of antioxidants, magnesium, and is a relaxant.
All Organic Ingredients: Dandelion root, Cacao nibs, Cacao powder, Cinnamon, Liquorice and Nutmeg.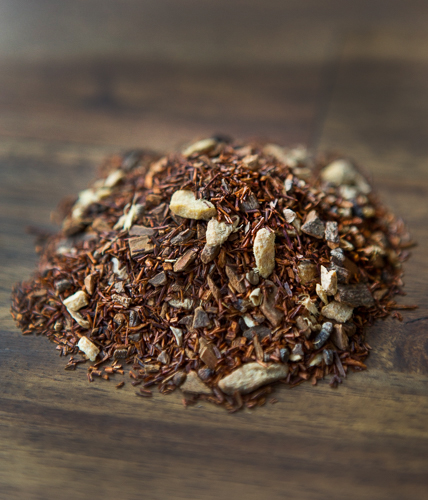 SPICY RED
This spicy yet refreshing blend is to help assist with tension, allergies and digestive problems.
All Organic Ingredients: Rooibos, cinnamon, ginger, cardamom, cloves and cayenne pepper.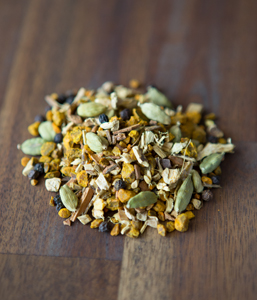 TURMERIC CHAI
This blend of herbs and spices is great for your digestion, cardiovascular health and a great liver detox. It's also a wonderful anti-inflammatory.
All Organic Ingredients: Turmeric, cinnamon, liquorice, ginger, cardamom pods and pepper.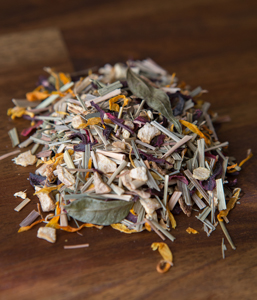 DIGESTIVE
Perfect to drink before or with a meal to assist with digestion.
All Organic Ingredients: Ginger, Lemon Grass, Hibiscus, Calendula Flowers, Lemon Peel and Curry Leaf.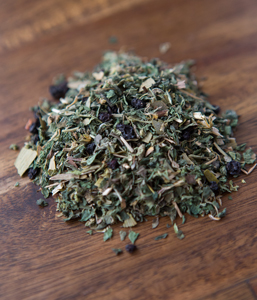 HAY FEVER FREE
Can relieve the symptoms of hay fever if taken regularly one months before the season.
All Organic Ingredients: Nettle, Golden Rod, Elderberry and Ginkgo Leaf.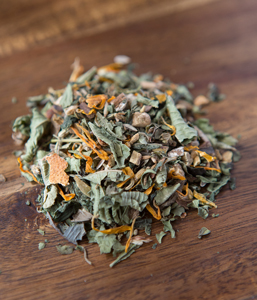 SPRING CLEANSE
The complete body cleanse with a beautiful taste.
All Organic Ingredients: Calendula flower petals, Burdock, Nettle leaf, Dandelion root, Red Clover flowers, Liquorice, Lemon Verbena, Lemon Peel, Rhubarb, St. Mary's Thistle and Fennel seeds.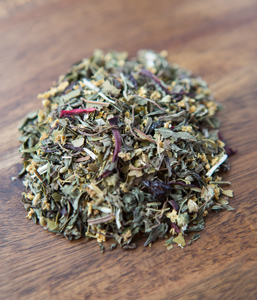 Warm UP
Delicious & warming blend which can assist with symptoms of cold & flu.
All organic Ingredients: Peppermint, Elderflower, Rosehips, Lemon Myrtle, Hibiscus flowers and Yarrow.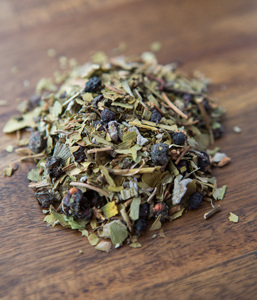 CRYSTAL CLEAR
Uplifting and enhancing concentration.
All Organic Ingredients: Yerba Mate, Brahmi, Shisandra Berries, Ginkgo Biloba, Bilberry and Sage.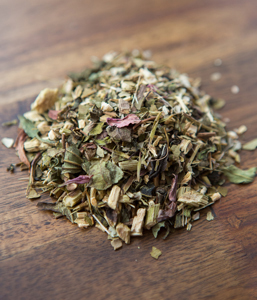 Immunity BOOST
Keeps your immune system armed and strong.
All Organic Ingredients: Echinacea, Lemon Myrtle, Astragalus, Siberian, Ginseng, Olive Leaf and Liquorice.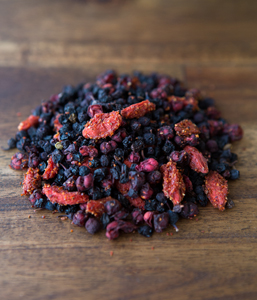 SUPeR Berry Mix
The most refreshing and cooling antioxidant packed with super nutrients.
All Organic Ingredients: Schisandra Berries, Bilberries, Goji Berries, Rosehips and Elderberries.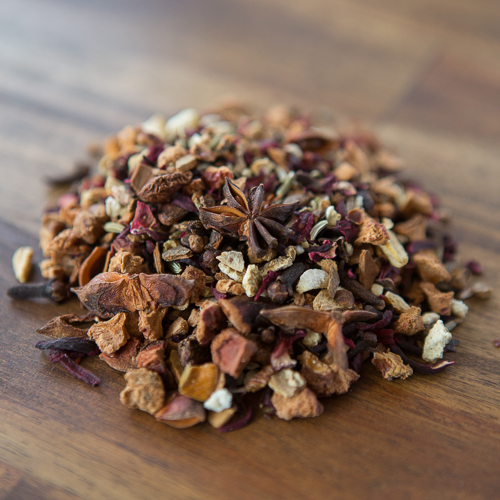 Spiced Winter
This blend is a gorgeous mix of fruits & spices. The perfect way to get stay warm during the cooler months.
All Organic Ingredients: Apple, Anise, Cinnamon , Cloves, Hibiscus/Rosella, Orange Peel, Rosehip granules, Ginger, Nutmeg and Fennel.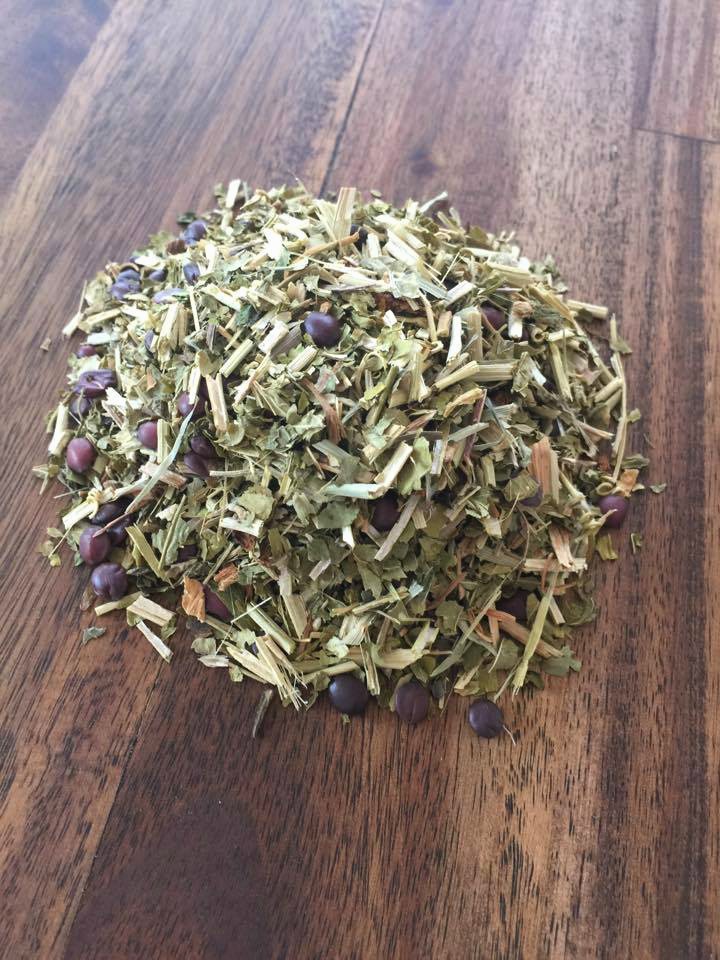 SLEEPY TIME
Perfect cuppa for a good nights sleep.
All Organic Ingredients: Passionflower and Chinese Date.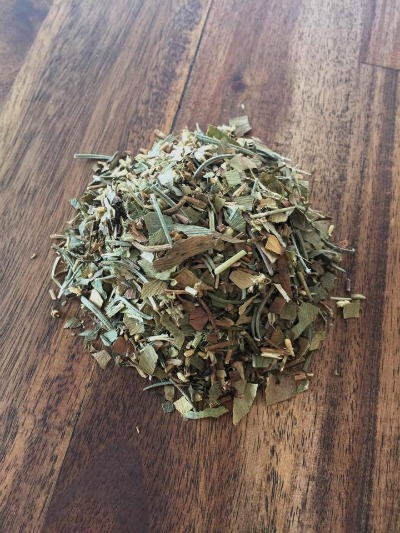 Flow
This blend will assist with improving your circulation, your heart and memory.
All Organic Ingredients: Hawthorn Berries, Rosemary, Lemon Peel and Nettle Leaf.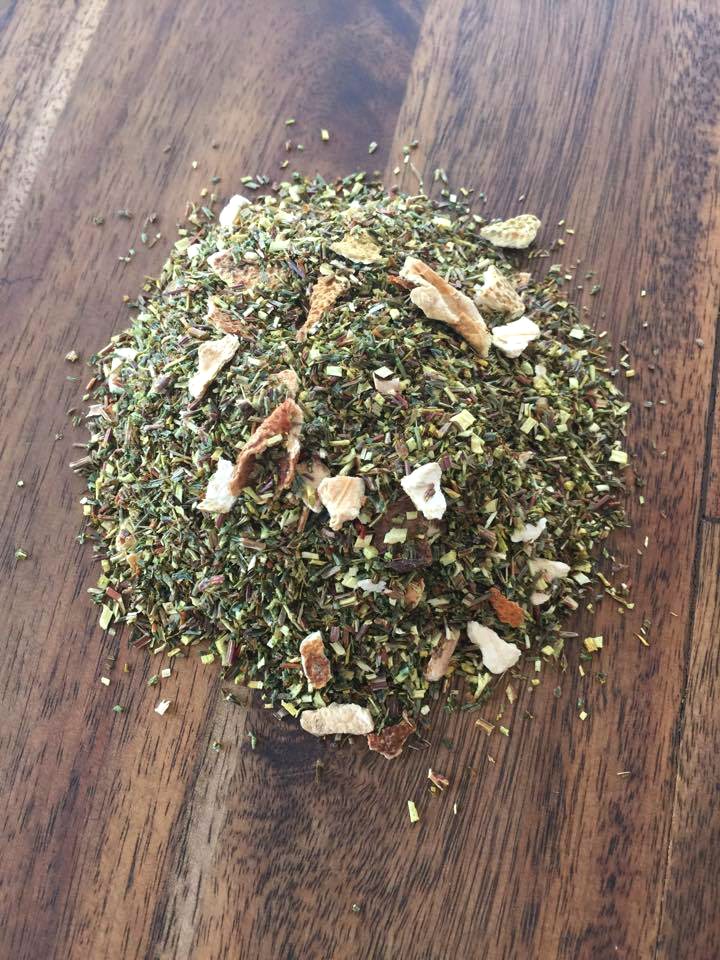 ZESTY gREEN rOOIBOS
Perfect mix of antioxidants to help you rejuvenate and relax.
All Organic Ingredients: Green Rooibos, Sweet Orange Peel and Lemon Peel.